PROJECT
Anne Neely
Hidden in Plain Sight
Curated with essay by Sarah Sze
CUE Art Foundation
, 137 W. 25th St., New York, NY
November 2 – December 16, 2017
"Like Guston, living longer has only created a greater sense of freedom for Neely. With her new series, she seems to have discovered, or rediscovered, a sense of abandon and license for exploration."
— Sarah Sze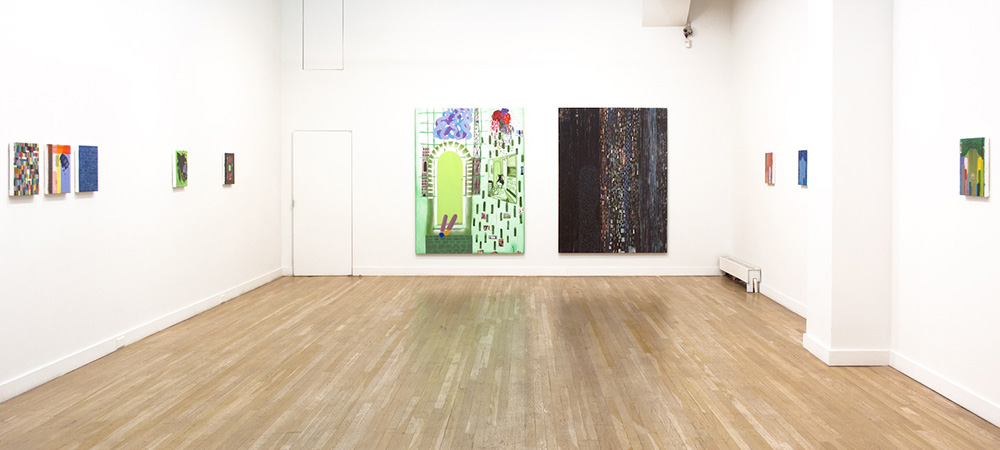 EXHIBITION CATALOG
The exhibition catalog includes a curator's essay by Sarah Sze and essays by Suzette McAvoy, former Director and Chief Curator of the Center for Maine Contemporary Art in Rockland, ME and John A. Tyson, Assistant Professor, UMASS Boston.
▹
View catalog .pdf
PRESS
Goodman, Jonathan, "
Anne Neely at the CUE Art Foundation
," ArteFuse.com, November 21, 2017
Xu, Wendy, "
One Poem by Elisa Gonzalez
," Hyperallergic.com, November 15, 2017
ARTIST'S STATEMENT
For over four decades I have cherished the transformative act of making art. For many years my paintings were about beauty and foreboding in the natural world with an emphasis on water issues in the last decade. I have used my curiosity about this world to explore, respond, reinvent and express ideas through painting. Scientific knowledge was a base from which I began a painting about the environment and from there I would imagine. Now with far fewer days on the planet in front of me than behind, I have shifted my focus from the external world and turned inward, only to discover stories that have surrounded me all my life.

In both the landscape and the personal narrative paintings, I set up similar compositional structures that hold the same challenges. Using different points of view, my painting language is culled from countless mark makings of lines, rectangles and different forms honed during years of printmaking. When I approach a painting, I ask questions from which a painting is built. One might say that by placing one layer on top of another, my paintings come to life.

Although I remain deeply connected to Nature, I find that I disappear into the landscape. However, in these story paintings, I am front and center. The difference and experience of these current paintings is that I forage emotional territory where extreme fear and joy join forces and become intimates. This connectivity between joy and fear has formed my life and the constant is my art. Now as I look back at experiences surrounding the curious child, the observant adolescent, the rebellious daughter, the adventurous teenager, the too young wife, the anxious single mother, the passionate woman, the tenacious artist, the emphatic teacher, the insistent environmentalist, the philosophical friend, the supportive partner I find these stories are often awkward, comical, certainly emotional, and always surprising.

Stories thread all of us together, bound, one by one, into a necklace of connective energy that is our essential humanness. These stories, whether mine or yours, are "Hidden in Plain Sight" for all of us and are rooted in the acknowledgement that life is an enigma. For me, understanding this is to be present. I am most present through painting, referencing memory, imagination and reverie.
Anne Neely
Dorchester, MA
September 2017